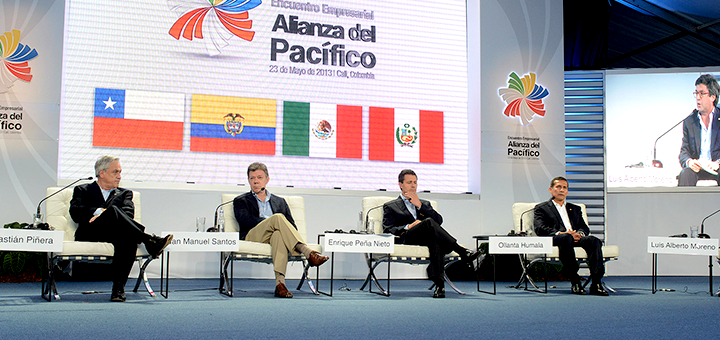 Posted by Colombia
On Thursday July 14th, 2016
0 Comments
association of southeast asian nations, Colombia, improving progress, integration projects, The Pacific Alliance
Mexico, Colombia, Peru and Chile, the Pacific Alliance members, are committed with the political and commercial union as an antidote to the "disintegration ghosts" that Brexit has brought. Since 2011, 5 years from its creation and at a time when integration projects like the European Union (EU) is suffering a major setback with the departure of United Kingdom (UK), the leaders of the four members of the Pacific Alliance and the foreign trade ministers, accompanied by 49 representatives of observer countries and the presidents of Costa Rica and Argentina, joined in Chile this June to confirm that working together is better than being apart.
In the Chilean city of Puerto Varas, Mexico, Colombia, Peru and Chile set 73 tasks to speed up the terms of a trading project that has achieved a lot in a really short time. The alliance already has a free trade and implementation agreement allowing the free circulation of goods and services. Nevertheless, there is still job to be done with the implementation of a predictable and executable process that will accelerate the commercial integration. This process needs coordination and commitment in order to align internal markets and open up the frontiers not only to products and services. A coalition like this requires a full market and capital unification which will build a single platform that makes the Pacific Alliance to become the eighth economy in the world and the most important financial area.
The Colombian case
Juan Manuel Santos, Colombia's president, highlighted the peace deal reached with FARC guerrilla. This will allow the country to become a more dynamic and substantial economy because there will be a minimum boost of 1% each year in GDP that will contribute to build a better environment for inversions coming from the private sector. In consequence, Colombia will grow at higher rates.
MERCOSUR and ASEAN
The ambitious path traced by these four countries that look out to the Pacific, whose 92% of trade has been liberalized, also explores a future fuse with MERCOSUR (integrated by Uruguay, Paraguay, Argentina, Venezuela, and Brazil) which has been static in all the attempts to reach agreements with other trading blocs in the region.
The Pacific Alliance also analyzes an approachment with the Association of Southeast Asian Nations (ASEAN), integrated by 10 countries in East Asia, following its objective of increasing their trades with this part of the world as all the members of the bloc become "bridges".
On the other hand, it is known that UK contacted the Pacific Alliance in order to make a trade agreement to supplement and mitigate their exit from the UE.
The subject of the IX Pacific Alliance Summit can be summarized in the words of Argentina's president, Mauricio Macri: "The Alliance is a group of countries that build networks not walls and the ongoing integration makes it possible to see a region that nowadays appears to be a wonderful place with investment opportunities and an abundant valuable manpower. In this sense, our reality is the one where you work in a public-private effort that will lead us to a zero poverty range, thrusting education, innovation and entrepreneurship. We must defend the concept and the benefits of integration so that all of our citizens can understand that we need to move towards a better and prosper globalization and integrity."