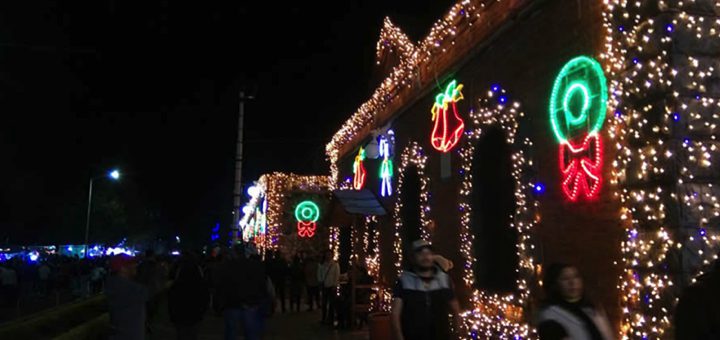 Posted by México
On Friday November 16th, 2018
0 Comments
Atlixco, Christmas, magic town, Mexico, Navidad, VILLAGE
Visiting this magical Villa is simply an aromatic and multicolor adventure. This place is home to the extraordinary Multicultural Festival of music and dance ¨Huey Atlixcayotl¨, as well as the former Convento del Carmen, the church of La Merced dating from 1680, the chapel of the Third Order with its magnificent altarpiece and countless monuments full of History.
As every year since 2011, the illuminated Villa of Atlixco expects to receive national and foreign tourists, to provide a spectacle of light and color, this exhibition has become a habit, where you enjoy one of the most beautiful Christmas traditions we have In Mexico.
In 2017 an economic spill of 422 million pesos was estimated, this calculation is considering that most visitors are regarded as "hikers", because they  only go for a visit but do not spend the night in this place, but for this season the Hotels are at their maximum capacity, it is advisable to book at an inn 15 days in advance.
When you reach the village its streets full of colorful LED lights will illuminate the route, as well as impressive Christmas figures, many of them made by Mexican artisans, making a real spectacle in all the way; The weather is a little chilly during this season, so the locals recommend wearing fall-winter clothes to enjoy the event.
The tour of the illuminated Villa starts at the Zócalo, walks about a mile and a half, where you can find a wish tree so each visitor can write their wishes and leave them there, you can also board the train of the villa , walk through the lava tunnel, enjoy concerts, recitals, typical food of Atlixco, as well as various artistic, cultural, sporting activities, flower stands, handicrafts and sale of Christmas items.
The event will take place at the convention center of Atlixco, Puebla, from November 23 from 2018 to January 6, 2019, this year there will be a special show inspired by the legend of Nikolaus, about the origin of Santa Claus and the country invited is Spain.